Price: $ 59.00
Details: Version 14, Powerful way to manage and display your family tree on your own website. No html knowledge needed. This template integrates perfectly with the TNG Program. I must install this template for you.
Responsive ❖ Cross-browser tested
TNG Template version 13:
TNG Template version 14:
Please make sure you have the version of TNG that the template requires. After uploading the template, if you see the picture in your templates choices but there are no fields to fill in, let me know. I will need to install your template for you. It just means that you don't have the latest version of TNG or I created the template after the latest version was released.
Occasionly our shopping cart does not recognize orders from countries other than the US. If your purchase is denied by the shopping cart, but the payment goes through with PayPal, do not reorder, email me. I will send you the download.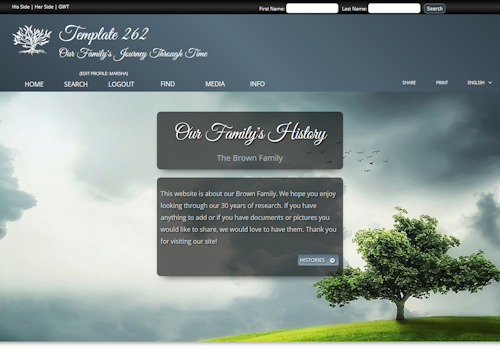 You will be previewing v14 of the template.