Price: $ 59.00
Details: Version 13, Powerful way to manage and display your family tree on your own website. No html knowledge needed. This template integrates perfectly with the TNG Program.
Responsive ❖ Cross-browser tested ❖ CSS3
TNG Template
Each of our templates is site licensed, not computer licensed. If you would like to use this template on another one of your sites, please contact us. Please make sure you have the version of TNG that the template requires. Templates 200-215 require v12 or higher. Templates 216-225 require v13 or higher.
On occasion our shopping cart does not recognize orders from countries other than the US. If your purchase is denied by the shopping cart, but the payment goes through with paypal, do not reorder. I will send you the download.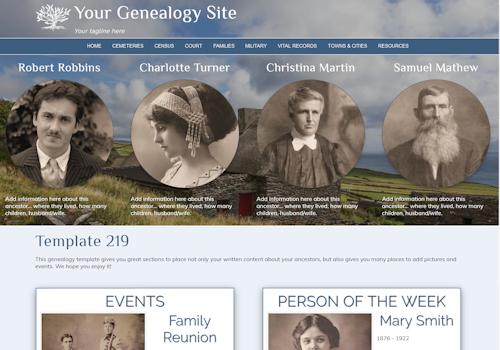 Click here for TNG live preview.
If you find a template that you "love" but don't see it in our catalog, it will be available when the v13.1 version is released.
These templates are compatible with the TNG program only. Templates 200-215 require v12 or v13. Templates 216-225 require v13. Most of our templates use royalty free images; however a few (TNG 200 & TNG 201) use paid images. The images in those templates must be replaced. We have given the source and image numbers in those templates. The navigation for different viewports is controlled by TNG. Our navigation preview shows our html navigation.